Green talk: urban herbology with lynn shore
With these interviews I create a space where artists are highlighted that have nature as their inspiration. The definition for artist is somewhat flawed in my opinion.
Having experienced the art field intimately as an artist and gallery owner, I tend to recognize the way-of-the-artist in many people who bring green inspiration to this world. So in these talks I blend them all together and celebrate their work and being with nature.
On my top wish list was Lynn Shore. A wonderful Amsterdam park dwelling herb lady from Bristol. She taught me so much about plants, health, energy and food. And even more important, she showed me I could pursue a lifestyle that seemed unimaginable to me. And now I am living it. So going full circle and with the greatest gratitude, I'd love to introduce one of my wonderful teachers.
CONNECTING TO NATURE IN OUR CITIES

IS THE MOST IMPORTANT THING WE CAN DO
*
You came to Amsterdam in 2004…
I lived in a rural area before I came to the Netherlands. In Sommerset. Really green and rural. You'd walk through the fields to a pub. But sometimes one can use a change.  So I went to Amsterdam in a wintertime. It was very cold, and I walked around a lot. I planned to stay for a few months and I found myself a small studio near Leidseplein. Near the Vondelpark. I walked there regularly. I stuck around and met my Dutch husband.
Reconnecting
Being a nature loving person, wasn't it difficult to reconnect to the plants and trees, coming from a rural to an urban area? Was it hard to find them?
No, they were there immediately. Once you have the connection, you never really lose it. You don't need to have a garden to be connected to nature. So many people on the planet don't have a garden and live in a city. There is another way to connect.
People in cities without a garden have a very important job to do. To find the connection to the natural world around them is immensely important. If we lose the connection, we get in trouble. If you have no personal green space, you make it. You can grow plants in different ways. Whether in pots in your windowsill or in municipal green or community projects. You can find ways.
'If you have no personal green space, you make it '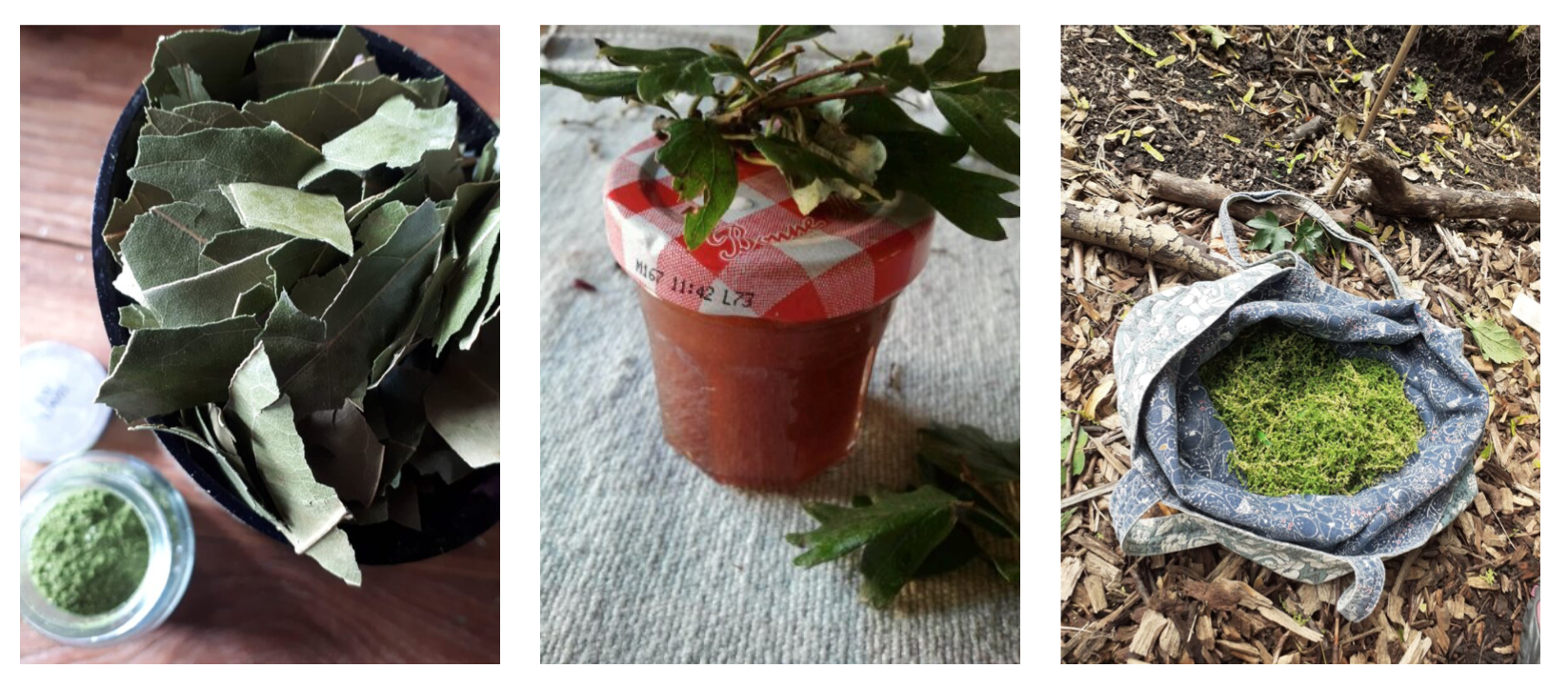 I am a teacher. Those tend to have this sometimes annoying characteristic to tell people things. So it felt very natural to me to share my knowledge. When I came to Amsterdam I had different office jobs, because I wanted a change in my professional work from teaching.
And I also love learning. There is so much to explore. When I did a masters in Public Health with Liverpool University, my teaching work and my work as a complimentary therapist and my knowledge of nature blended itself. I focused on urban food security and graduated a week before my daughter was born. In the midst of nurturing our little girl I wanted to get all this knowledge to go somewhere, I had all these thoughts in my head. So I started a blog about Urban herbology. And then people started asking for walks. And I organized paid walks, but then people wanted to have workshops and courses. I added those. It kind of build itself over time.
I witnessed how many people are looking for a connection with their local green space. So on a personal level it is very satisfying to be able to spark the interest of so many people.  But it was also awfull in a way, beause sometimes there were so many people coming to my herbwalks, that I felt it could be harmful to the urban environment. And that was never the intention.
I wanted people to appreciate their urban green environment, not damage it. We need so much more of it. So I thought: what if all these people would start making more urban green space and start planting trees and shrubs?
And then River of Herbs came into existence.
I got the idea from the Permaculture Magazine which featured an article about a River of flowers project in the UK. They had this fabulous idea to make lint-like threads of flowers through cities as a support and refuge for insects. I reached out to them. But I'm more of a herb person. I wanted flowers that insects visit but people could also eat. So we organized an event to launch the River of Herbs in Pakhuis de Zwijger, in one of their small rooms. And 240 people turned up. It was so exciting. Lots of people started to participate.
It's nice to keep in touch with each other, while you are working on your own to green your local area. And it also connected with other projects like guerilla gardeners. Besides a river of herbs, it was a river of green people that flowed through the city. It really took off from there.
care for people and plants
It's been about plants, people and wildlife. Those have to be cared for. There's this beautiful herbpatch nearby. It a lot of effort to build it. But when the caretakers neglected it, you notice. The people side of nature has to be maintained as well or you'll end up with nothing much basically. As people we are really important.
In my mind it's really simple. We should use all the green spaces for edible or usefull plants. And then simply start using it. Not exploiting but build connection. Use them and care for them.
With children it's more natural to spark their interest and they go home and tell about it. So River of Herbs volunteers went into the schools as well. Teaching children how to propagate and care for plants, and start building school herb gardens. There is an imaginative and friendly way to present how to connect to nature, there is no right or wrong.
' Focus on what we can do, on being friendly to yourself and create support systems '
But the people in the city are not always friendly towards our little wild gardens on communal ground.
I have seen very talented and knowledgeable people get depressed because the negative and destructive powers are so strong. They get overwhelmed. We are part of it all. It takes a lot of people to make changes and create those green spaces.
But if I would focus on the doom and gloom of our days, people would turn away to protect themselves or get depressed. It's not the best way to get my message across. So I focus on what we can do, on being friendly to yourself and to create support systems.
message of hope
At some point I returned to teaching in schools as well. In biology class I gave these 13-14years old children an assignment to design a sustainable farm for the future. They applied their knowledge about photosynthesis, plant growth and minerals with technology, the state of the environment and climate.
But also about money and production, because you want it to be sustainable. A kind of assignment that includes all sorts of different things. I feel the importance of not paralyzing our young people with fear and despair about their future.
Some students show me books about doom and gloom and they are 16 years old! So to be able to show them a trailer from the Netflix documentary Kiss the Soil then feels like an act of grace. And some of them really go for it. They have to be aware of the problems but I want energy and excitement for our youth. Let's do it, we can do this!
With your unique blend a lot of people are drawn to you. You organise foraging walks, workshops, apprenticeships, personal consultations.
The Apprenticeship is focused on an urban environment. If I look back to photo's of apprentices that were studying with me and helping in the orchard, many of them have their own wonderful projects now. It all grew and grew.
At one point I created an online apprenticeship program. All the live ones got overbooked. I wanted to offer it to more people so they can learn to integrate such a lifestyle from wherever they are. So now there are also people from the UK or as far as Toronto doing the apprenticeship program. Part of the course invites them to connect to people in their neighborhood as well and find out what's going on. The people who join are very diverse, most have jobs or other projects on hand, so I divided the program. Finding the plants in an urban environment is one thing, but what to do with them? How to grow and care for them?

Another part is about connecting back to nature from a pagan, more spiritual point of view. It's important that whatever is your spiritual background you're able to connect with nature throughout the year. The wheel of the year is a pagan representation of 8 festival of the year, midwinter and summer, the equinoxes and the times in between and they are all related to nature. This concept is seen across all the religions of the world somehow. The harvest feasts, being thankful of God or of nature, it's seen everywhere around the world. So we have a module about this.
For me those lessons also addressed the role of the feminine in nature. This seemed to be pushed aside a lot in our societies. Your lessons made me remember what once had been, and it felt very natural to me.  The female cycles and this wild side intuition gets acknowledged in your stories.
That's wonderful. It is about embodiment in a way. I just can't understand why we would grow all kinds of ornamentals but no edible plants. It's a really nice thing to look at nature and find these things in yourself. When is the moment to withdraw and reflect on things? When to flower? There is so much to learn for you as a person just by looking at nature.
And now you're busy with the school and making more plans…
Everything has its time and place. Next to my school job, which is very dear to me, I never stopped consulting people personally. Through a combination of herbalism, yoga, reflexology, health and lifestyle and also nature therapy.
And steadily I work on my dream of a natural health center. With nice buildings and herb gardens. I think this should be situated in the city and offer people help in all these territories that I work in. A center that is plugged in with the community. For schools but also with people that are recovering from addiction or homeless people, a natural refuge in the city.  I could imagine it with a Traveling Herb Caravan for advice and nourishment. That's the dream I have been working on for years.
And it will get there, I can already see it. It's almost ridiculous it's not there yet.
It feels I could just step into it.
Lynn Shore is British and lives in Amsterdam since 2004. She began working as a She is a complementary therapist since 2000 and Yoga teacher.
For herbology walks, workshops and courses about ethical herbal foraging, crafting and living in harmony with urban nature and her apprenticeship programm you can visit her website: Urban Herbology. And here you find more information about the orchard in Park Frankendael and the River of Herbs project. 
Photography: Urban Herbology & CvG